Trousseau of the Nineteenth Century
In the same way as brides assembled a trousseau in the 19th century, the child of 100 years ago fully expected that mother or grandmother would make a trousseau for dolly. She was not disappointed, for the "little ladies" of the 19th century grew up learning "womanly" duties by practicing on their dolls.
Doll dressing and undressing was a normal part of child's play in the last century and so it was very important to own a trousseau for dolly. While most children were content with "family-made" clothes, a few fortunate girls could boast of their dollies' "haute couture" trousseau. French dolls, so popular then, could be outfitted in stylish clothes made by excellent seamstresses. Harper's Bazar in 1868 also described a German wax doll with "exceedingly stylish" clothes made in Berlin. No doubt seamstresses in sophisticated Berlin could produce garments to compete with the French doll trousseaus better than the provincial Germans could, but these complete toilettes for a doll were very expensive.
The Collector's Book of Doll Clothes cites:
Although seamstresses earned less than 50 cents a day for making dolls' clothes, many of the dolls' trousseaus were so elaborate and complete that they added as much as a hundred dollars to the cost of the doll itself.
In a ploy not dissimilar to today's "create a market," publications such as Harper's Bazar touted "what the well-dressed doll should wear."
On the other hand, in 1889-1900 The Doll's Dressmaker, tells the story of a little girl who had a doll's wardrobe similar to her own:
We made her two complete sets of under clothing and lots of dresses. Mamma made an ulster (overcoat) of checked cloth on the machine. It's just like mine and real pretty. Edith's big sister crocheted her a pussy hood. You know what I mean, out of angora yarn. Then she had the daintiest little white aprons, just like the kind I wear to school.
A doll with trousseau in a presentation box as shown in an 1896 catalog.
Doll with trousseau in a trunk, as shown in a 1908 fashion periodical.
From the beginning of the 19th century there were paper dolls and doll-dressing sets with many different clothes included. An 1806 issue of Les Jeux de la Poupee portrayed a "real" doll just like its mistress. The child is shown "taking dolly for a walk, putting it to sleep and arranging its breakfast with a delicate little coffee-pot and dishes."
In 1881, another account of doll play in Le Jeu de la Poupee, includes "undressing and giving a bath to the doll and even 'vaccination' by a small boy acting the part of the doctor. This French doll is seen progressing from a diet of milk, fed from a long tubed baby bottle, to gruel cooked in a tiny saucepan and, finally, on her 'mother's' knee she takes a sip of sweet wine and a biscuit. The doll which in 1806 was pictured taking an airing on leading strings has by 1881 acquired a cute little three-wheeled baby carriage in wicker work and she is put to bed at night in a beribboned cradle."
An Antique Example
Several years ago at the Children's Museum in Indianapolis, Indiana, I was privileged to inspect a German lady doll purchased about 1906 in France for a local child. The doll came in a rather large trunk, along with an extravagant trousseau of about fifty items, providing a wonderful model for today's dolls. She wore a finely made two piece dress of pink silk (which has greatly deteriorated through the years). The dress had a coat to match, richly ornamented with lace and pleats. There was also a white silk dress and one of eyelet embroidery.
Antique German Lady Doll with coat, letters, gloves and other accoutrements.
The underlinens included a chemise and drawers which formed the foundation. A white muslin petticoat trimmed with lace and a pleated double ruffle, two corsets, and a garter belt rounded out the ensemble. Another necessary item was the nightgown.
Among the impressive array of hats, dolly could choose one with a pink velvet crown and white felt brim, which flaunted flowers and egret feathers. Or she could select a straw hat embellished with ribbon and feathers. Another straw hat sported wax cherries, leaves, and velvet ribbons. The braided horsehair hat, embellished with flowers, or a black velvet hat with soft crown might be the choice of the day. A hatbox of wood covered with black oilcloth could hold only one hat of the collection. After deciding which hat was suitable for the day's activities, dolly would throw on a hooded cape of velvet lined with silk for a crisp fall walk, or, if it was raining, don her brown satin raincoat with shoulder cape.
Footwear included tan mesh stockings, tan laced boots with flat heels, black single strap shoes, and single strap white kid shoes with flat heels.
To complete the trousseau, and to educate her owner in proper etiquette, accessories were plentiful. They included:
A parasol of pink silk and one of red silk
Two veils-one of black silk lace and the other of gray net
Four pairs gloves
Three purses
A jewel case and lorgnette
White linen handkerchief
Two fans
Sunglasses
Tortoise shell combs
A perfume bottle
To keep in touch with dolly's friends were stationery, stamps, and red sealing wax.
A Replicated Trousseau for a 19th Century Reproduction Doll
Anyone who owns an antique or reproduction doll will at some time long for such a trousseau. Cindy Hernandez, a modern day couturiere, is no exception. She chose her French C Series Steiner painted by artisan Dee Benisek as the lucky doll. The 14-inch body makes the doll a nice mid-size model for the growing array of clothes. The doll, named Amelia after Cindy's paternal grandmother, is the proud owner of each piece of the 1885-87 trousseau, which has been researched and developed for authenticity and sewing techniques of the time period.
The Victorian era has always been of interest to Cindy, so when she began her business of doll costuming, the antique and quality reproduction antique dolls were a natural. She attended Fashion Design School in Chicago, thus insuring authentic period designs and fabrics in her costuming and patterns, and years of experience sewing for designers at a clothing manufacturer have produced exquisite workmanship. Cindy's creative flair is seen in each trousseau piece. That flair, combined with her knowledge of fashion history and second-to-none workmanship have produced several awards for her costumes over the years.
The party confection, which is part of the trousseau, won a blue ribbon and Best of Category in the Doll Costumer's Guild Chicago-area competition. The same dress, with hat, underclothes, shoes and socks, went on to win Expert Class First Place in the 1997 national competition of the Doll Costumer's Guild of America.
With this background, let's take a look at the wonderful trousseau Cindy is putting together for Amelia.
Since underlinens form the foundation of an ensemble, Cindy designed two sets–one for everyday wear and one for special occasions. With the addition of three different styles of dress and night wear, the basic necessities in a trousseau are covered.
UNDERLINENS
Underlinen is a broad term used for any item of clothing worn beneath the external garments, by day or by night. The four-piece set of special occasion underlinens includes chemise and drawers (many a doll was purchased with just this type of chemise and drawers as its basic clothing), petticoat and stays. Both chemise and drawers are embellished with red ribbon, overlaid with lace. The chemise neckline follows the party dress neckline and has a panel of front vertical pleats and a back placket with button and loop closure. The waistband of the split drawers closes with a button and hand-worked buttonhole.
The petticoat has a front waistband and back drawstring closure. It is hemmed with wide lace edging and a flounce is mounted over the lace hem.
A picture of an antique doll (Doll Costuming, How to Costume French and German Bisque Dolls, by Mildred Seeley) inspired the chemise and drawers design. The stays and petticoat evolved from Cindy's integration of ideas based on several photographs of doll clothing of the period.
Antique doll that inspired chemise and drawers.
Closeup of chemise. Notice the ribbon embellishment with lace overlay.
Stays and petticoat added over chemise.
A pair of stays (another term for corset) has non-bone support bands and four sets of lacing grommets.
PARTY CONFECTION
Also inspired by an antique doll costume (Doll Costuming, How to Costume French and German Bisque Dolls, by Mildred Seeley), the one-piece silk party confection, or dolly's Sunday-best frock, is meant to set dolly off from the crowd, and it does so extremely well. In the French style, the bodice has a ruched and pouffed plastron sewn to the skirt, which consists of pleats headed by pouffing. Cindy hand-beaded the vintage flower trim on bodice and sleeves, to add more style. A cummerbund with front rosette concludes in a back bow bustle.
Antique doll that inspired dress
Upper and lower views of dress front
Interior construction of dress. All seams are overcast by hand.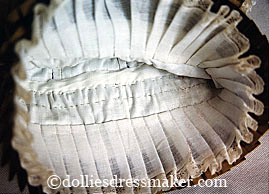 Dolly's impressive chapeau is a toque (a brimless hat) with a brim effect made with wide ribbon. Height is added with an extra pouf at the front. The ostrich feather was hand dyed to match the fabric color. A drawstring lining completes the toque.
SHELL WORK HANDKERCHIEF AND GLOVE BOX
Cindy added several accoutrements to the underlinen and party confection ensembles described earlier.
A shell work handkerchief and glove box in which to keep Amelia's accessories, made from shells Cindy collected as a child.
A "gift" for Amelia to give when attending a birthday celebration in her "party confection" dress.
Charles Platten Woodhouse writes in The Victoriana Collector's Handbook that:
Shell work rated high as a ladies' occupation in Victorian times. …There were several kinds of decorative shell work at which women excelled….Boxes to hold gloves or trinkets were completely encrusted with shells, or, as in the case of boxes of polished rosewood or mahogany used for a variety of purposes, small shells were glued on top to form a decorative pattern. The greatest skill and care were required. Many Victorian women became adept in shell work from an early age.
The shell box is another perfect addition to Amelia's growing trousseau.
Shell box interior with gloves and handkerchief.
Shell Work Handkerchief and Glove Box
Materials needed:
Wooden Box
Small Shells
Velvet
Gimp Braid
"Scrap" Pictures
Silk Ribbon
Silk Lining
Instructions:
Step 1: Start with a pre-made wooden box with lid which measures 3 1/2″ x 2 1/2″ x 7/8″ high.
Step 2: Cut a piece of velvet 1/8″ smaller than top of box lid and glue to the top of box.
Step 3: Glue gimp braid around the top edge of the lid, covering the raw edge of velvet. Glue gimp braid around bottom edge of box.
Step 4: Attach an old or reproduction Victorian "scrap" to the outside center of box lid with glue, then surround the scrap with small shells to form a frame. Decorate remainder of the box with shells as desired.
Step 5: Cut a piece of lightweight cardboard a little smaller than the interior of box bottom. Cover the cardboard with a piece of silk. Glue a length of 1/2″ silk ribbon to the back of the cardboard at one corner and another length of ribbon to the opposite corner.
Step 6: Glue the entire cardboard unit into the bottom of the box. Lay hankies in the box and tie in place.
Gift Box
Materials needed:
Marbleized Tissue Paper Wrapping
Silk Ribbon Bow
Flowers
Instructions:
Wrap a small box (approximately 1 ½" x 2 ¼" x 7/8″) with a piece of fancy tissue or wrapping paper, making sure the pattern is in scale with the box. Tie a length of 1/8″ silk ribbon around the package into a bow. Add a sprig of flowers if desired
POMPADOUR DRESS AND GUIMPE
The school toilette for dolly is comprised of two pieces – a pompadour dress and coordinating guimpe. The pompadour style has a low square neckline and is attributed to the Marquise de Pompadour, mistress of Louis XV of France. It is made from a piece of new lightweight, drapable wool with a very small checked design. Cotton could be used as well. The picot ribbon and laces are vintage.
1885 Delineator Engraving
The neckline of the pompadour dress is trimmed in lace and formed in part by three parallel band insertions "en echelle" (in ladder form), the ends of which are flanked by sets of decorative buttons. Lace ruffles, or epaulettes, made from a vintage handkerchief grace the shoulders. Triple rows of hand-stitched tucks add interest to the skirt. The picot-edge ribbon shows up prominently at the back of the dress in the form of a large bow.
A guimpe is a bodice worn under a jumper or low-necked dress. Silk or cotton of an appropriate weight should be used for this item. Cindy's is made from vintage silk and laces. The front of the long sleeved guimpe is covered with six fine, vertical pin tucks which Cindy worked by hand, and has a lace frill at the neck. The sleeves end in narrow wristbands and ruffles with a frill of lace peeking out from beneath. The guimpe has a casing with a running string (draw string) at the waist, and a back button closure. The buttonholes were also worked by hand.
Gimp front showing hand worked pintucks.
Straw Hat
Dolly's straw hat sports a "tinted" finish. It is decorated with ribbon coques (a French term denoting bows of ribbon arranged in loops as a decorative trimming), buckles and contains an interior drawstring lining. This type of lining adds authenticity to a hat of this period and is not complicated to reproduce. It is made from a long rectangular piece of fabric with a casing on one edge. After the lining is attached to the hat, ribbon or cord is inserted into the casing and drawn up to fit the inside of the hat.
Tinting and Glazing Directions
The straw hat used by Cindy for her doll is:
Round Top #916 from Barbara's Playhouse, size 10″-11″
Any other good quality straw hat could be used.
Seal the hat with a coat of Satin Finish Waterbase Polyurethane Varnish. Let varnish dry thoroughly. (Note: Accent and Country Colors both make a Satin Finish Waterbase Polyurethane Varnish which can be found at most craft stores.)
Painting a section at a time, cover hat with a coat of acrylic paint in the color of choice. Rub off paint with a cloth so that the straw shows through. Leave enough color to stay in cracks and crevices. Continue in this manner until entire hat has been tinted. Let paint dry thoroughly. Glaze entire hat with another coat of Satin Finish Waterbase Polyurethane Varnish. Let dry thoroughly.
This produces a very nice colored finish on an otherwise ordinary straw hat.
EVERYDAY UNDERLINENS
The simple everyday underlinens (which can also be worn with the petticoat and stays) are as expected–for everyday wear. The chemise has a back placket with hook and eye closure. The neck and armholes are edged with lace. The split drawers have a drawstring closure and are ornamented with a frill of Swiss embroidery at the bottom. These basic 1885 underlinens were generally made from lightweight cotton or linen fabric and were worn by multitudes of dolls. This set is made from new lightweight cotton, trimmed with vintage laces. Appropriate new laces would work as well.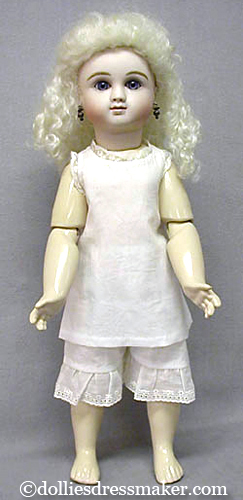 Chemise and Drawers detail
1885 Harper's Bazar Chemise and Drawers
SEASIDE FROCK
The Victorians loved to "overdo" things. If one feather in a hat was good then ten feathers was ten times as good. If one had a party frock, a school dress, and an everyday dress, then one must have a visiting dress, a walking costume, an afternoon dress, and most certainly for a day at the water's edge, a seaside frock. And if a young girl donned her seaside frock for the day, then dolly must go along in her own seaside frock.
The seaside frock consists of a two-piece dress and tam-o-shanter hat, both with interesting hand worked details. The sleeveless dress, made from a vintage wool challis garment, has an anchor embroidered on the bodice front. Cindy also hand embroidered motifs around the pleated skirt of the dress, the jacket collar and the sleeves.
Antique doll that inspired Seaside Frock
The tam is made from a vintage wool felt hat, has a pom-pom on top and a fully finished pigskin leather band around the base which has been foil embossed with the French word L'Espiegle, meaning "frolicsome" or "mischievous." Cindy found a local bookbinder who willingly supplied the appropriate leather and did the embossing for a very reasonable fee.
To match the red trim on the frock, Cindy designed a sampler trimmed with a popular trim of the period– red rickrack.
Sampler with Amelia's name and date embroidered on it.
NIGHT CLOTHES
The loosely fitted long nightdress for dolly's night time slumber has front narrow released tucks from neck to waist and a double box plait at the center back of the neck to give fullness. The full length front placket has a button closure, with hand-worked buttonholes. A narrow yoke detailed with delicate feather stitching encircles the neck. The lightweight vintage linen nightdress is enhanced with vintage lace on each side of the placket.
The nightdress was influenced by the historical description from an 1887 Standard Fashion Company doll pattern found in The Collector's Book of Dolls' Clothes, Costumes in Miniature, 1700-1929.
The nightgown on the pattern had a front, back and long full sleeves and the closure extended all the way down the front. The pattern directions read:
In the neck edge of the night-gown back and near the bottom of the sleeve form a double box-pleat.
Dolly's nightcap is made from a vintage handkerchief given to Cindy by a friend. It is shirred into a "frill" at the crest and decorated with a cluster of knotted ribbon. A running string allows for size adjustment.
Nightdress ~ Front Detail
A pair of slippers will keep dolly's feet warm.
Crazy Quilt
A fad of the Victorian era, and one which demanded lots of skill and creativity, was the crazy quilt. However, periodicals for ladies provided ideas and directions for anyone who lacked either or both. So dolly must have a Victorian Crazy Quilt- a medley of patches randomly placed onto a foundation. The patches were embroidered by Cindy with several different embroidery stitches and personalized with dolly's name. This "slumber throw" will keep dolly warm on cold winter nights, or as many Victorians did, she can put it in her parlor for decoration.
Finished quilt size is approximately 14 inches by 8 inches. Cindy's quilt includes vintage fabrics from a friend, other various vintage garments and a silk tie her father wore years ago. A fancy pillow accompanies the quilt.
Pillow made from a vintage piece of embroidery.
Instructions:
Top-
Cut an 8 1/4″ x 5 1/2″ rectangle from fancy tapestry, embroidered or other suitable fabric. Baste an 8 1/4″ x 5 1/2″ rectangle of batting to wrong side of pillow top.
Back-
Cut an 8 1/4″ x 5 1/2″ rectangle of velvet or other suitable fabric. With right sides together sew pillow top to back, leaving a space for turning. Turn pillow right side out and press. Stuff pillow and slip stitch opening closed. Sew small cord or other suitable trim around outer edge of pillow.
Notes
The article Ultimate Doll Costuming: The Trousseau, by Donna Birkey was published in three parts in the March, May and July 1999 issues of DOLL ARTISAN magazine, published by Jones Publishing Inc., Iola, Wisconsin. All photos in this article are courtesy of Donna Birkey.